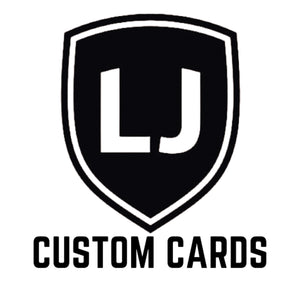 Fall Sale
Use code "Fall20" to get 20% off your order!
Ends 9/30/23
Welcome to LJ's!
Hey everyone! Thanks for stopping by our shop! All cards are custom-hand-made one-of-one's, so YOU will be the only owner of your custom! Be sure to check out our social media pages for customs that have already been sold and/or made as a commission! I hope my love of sports and my passion for CardArt can bring a little joy to any and everyone. Thanks so much for all of your support. From me, Lee, I truly appreciate all of our customers and everyone that's apart of #theHobby! 
Contact LJ for your Custom Today!