Kyle McGowin- Washington Nationals Pitcher ordered a few different custom cards from me and I got to meet him at a game in San Diego in July! What an extremely nice guy and awesome experience for me! He ordered more too! Always happy to make the clients happy!
---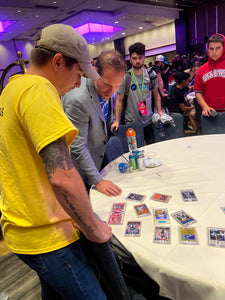 LJ featured in an article by: Sports Card Investor!
Much more than sports cards
"But whatever the show lacked in the soccer department, it made up for in non-sports-cards areas. It didn't matter if you were a collector in search of custom art, miniature stadiums, vintage baseball gloves or signed helmets, the National had a few booths with your name on them. Some exhibitors had newspaper clippings detailing historic sports events while others sold clothing worn by icons. One other pleasant trend we saw was custom baseball cards. With their vibrant designs and a vast catalog (Simone Biles!), 
LJ's Custom Cards
 may have been our favorite in the department. Lee Johnson has a good-looking product and demonstrated great energy while selling it. If he has a booth in Atlantic City next year, we wouldn't be shocked in the least."